Interview - Young Rising Sons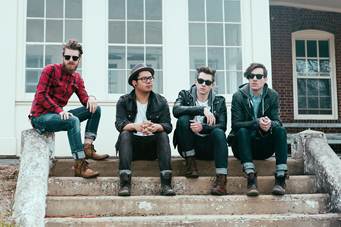 Young Rising Sons are one of the breakout rock bands from 2014. We got a chance to sit with them and hear about their tour life, fans, and new album. Check our our interview with them below!
CS: Right now, you're on tour with The 1975 and it seems like you've been touring non-stop within the last year. Apart from performing, how do you keep yourselves busy?
Andy: We stay pretty busy on the road, honestly. Between the drive and the and press and interviews and radio stuff, it's pretty much non-stop. So it's tough to get bored, I think? 
Dylan: We're always stimulated by something
Andy: Yesterday we had a day off and we did a little drive and just sat in our hotel room, we did nothing and it was the best day off.  
Steve: You learn to appreciate the little things like that. You don't really have much time to sit back and deal with nothing, so that was the first time in a while we kind of just chilled for a few hours. 
CS: You said it yourself: Young Rising Sons has pretty intense fans. What's the craziest fan situation you've been in?
Steve: Every night after we play, we'll go out to our merch table to take photos and sign stuff. We peaked out and there was like, maybe 100 kids waiting out there, and I was like "Well, maybe they're waiting for The 1975 or something." Dylan popped his head out and they all went nuts. We were like "Oh, okay they're here for us." And then we got dragged through the crowd by security. They wouldn't let us sign outside afterward because it was that crazy. There was pushing, some people grabbed us by our hair and stuff, that kind of thing.
Andy: Eventually, security had to take us back in and like, hide us. 
Steve: That happened a few times on this tour, but that was the first time it happened, then it happened more and more as the tour went on. 
Andy: It gets a little scary; it's thrilling and exciting..
Steve: It's like an episode of The Walking Dead, they just close in on you, but they mean well.
CS: Sonically, what can we expect from the album that differs from the EP?
Andy: I think there are gonna be a lot of differences. The EP really captured where we were at that time, like when we were signing with Interscope. I think there's a lot of uplifting moments in the EP. With the album, we kind of wanted to show more depth of what we're about as a band and show that we are a rock band. We write songs that have a lot of pop elements, but at heart we are a rock band and we want to showcase that. 
CS: Is there any idea or concept that you want to get across with the album that you couldn't quite get across with the EP?
Andy: I think it we just want to get across the life isn't always sunshine and rainbows and that our lives haven't been like that always. We wanna really capture that. not to say that it's gonna be a downer by any means but we need to be able to show both sides. 
Steve: We wanted to put across a full spectrum of human feeling. We want to make sure that we're not this one dimensional band with one category of songs.
@lordfucktard on twitter asks: Why did you choose to cover Melt With You for this tour?
Andy: We chose Melt With You because we really like the song and for this particular crowd, everybody knows it. They might not be able to say "Oh, this is Melt With You by Modern English," but its a familiar tune.
Dylan: The young kids think it's Bowling For Soup.
Andy: I think it's a song that crossed generations. The kids know it and their parents know it, so we wanted to do something that would breach that gap.